Best Tempo Traveller For Rent
---
Booking Rental Tempo Travellers
Rental Tempo Travellers – Here you can find the different types of Delhi tempo travellers & Minibuses Seating Start from 7 seater, 9 Seater, 12 seaters, 15 seater Minibus, 18 seater Minibus and 21 Seater Buses. If your group is bigger you can also avail mini bus which will be comfortable for travelling. You Can see the pictures of our rental tempo travellers & Minibuses in Photo Gallery Section. We offer a battery of transportation options, Our Rental Tempo Travellers are customized and specially designed for the comfortable journeys providing ample room for luggage, and leg stretching, neat and clean seat covers, fitted with augmented features like GPS trackers, Comfortable Pushback seats, on the move amusement systems, Surfing on the move through Wi-Fi (On Demand). are the few features to list.
Popular Trip By tempo Traveller
We best in class transportation options especially rental of Tempo Traveller ranging from 7 to 12 seaters 1x1 Luxury Maharaja and 2x1 Deluxe Travellers After that We Also Have 18 Seater and 21 Seaters Minibuses with AC at a very economic and pocket-friendly price. Through Delhi tempo traveller hire Service, you can see Delhi and Various Places, spending the minimum time on the road and more at the places of interest. This gives you the maximum value for your money and you will return home confident that it was a holiday well-spent in terms of time and money.
How much Does it cost to book a tempo traveller
Popular Tours From Delhi By Private Car & Driver
Popular Tours From Delhi By Private Car & Driver
| Vehicle | Innova Crysta | 9 Seater Traveller | 12 Seater Traveller |
| --- | --- | --- | --- |
| 1D Agra Trip | 11000/- | 15000/- | 16500/- |
| 2D Amritsar Tour | 22000/- | 31000/- | 33000/- |
| 2D Haridwar Travel | 12000/- | 19000/- | 19000/- |
| 3D Mussoorie | 16000/- | 24000/- | 25000/- |
| 5D Shimla Manali | 30000/- | 45000/- | 49000/- |
| 4D Dharamshala | 25000/- | 39000/- | 41000/- |
Luxury Minibus & Travellers With Airsuspension
They assist in this process by offering prices for vacation rental travelers in different Delhi, along with car makers and different features. Rates for rental tempo travelers in Delhi is also based on the number of seats.
some of the standard rates Tempo Travelers rent in Delhi. They guarantee the best prices and quality vehicles from 10 verified suppliers connected to the platform. Upon receiving your request, they will provide a competitive quote to choose the best one. How to Rent a Tempo Traveler in Delhi: Dedicated Services Provided Before deciding to rent a temporary traveler in Delhi, you will find here some of the luxury facilities our inventory offers.
12 Seater Deluxe Tempo Traveller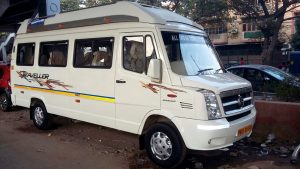 5500
For 8 Hour / 80 Kms
Outstation Rate: 24/- Per Km
Seating : 12
Tempo Traveller With Air Suspension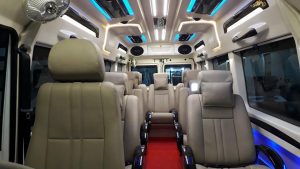 6500
For 8 Hour / 80 Kms
Outstation Rate: 28/- Per Km
Seating : 10
Toyota Innova Crysta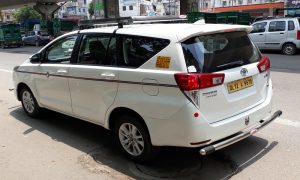 3000
For 8 Hour / 80 Kms
Outstation Rate: 17/- Per Km
Seating : 6+1
Tempo Traveller Features & Facilities
Safety Feature
All seat automatic seat belts
Installing the roll bar and the bull bar
Fire extinguisher installation
First aid kit
Equipped with tool box and spare parts
Baggage net for managing excess baggage
Driver with mobile phone
Safety guidance with passengers before starting the tour.
Emergency response plan
Cheapest rental car as part of transportation service